This past weekend, my husband, son and I drove up to Chicago to see Hamilton and Hedwig and the Angry Inch. Between the shows, we took a chilly afternoon train up to Uptown, where Sid lives in Beneath the Stars. I had hoped to explore the neighborhood a bit more with a walk out to Montrose Beach, and a bit of meandering for restaurants, etc. but the day was bitter, bitter cold and Sid's walk from the Red Line to his apartment was about all we could take.
Speaking of the Red Line, the bottom right picture is the view from his station. His apartment is the first shot, and the paintings are from a building across the way that seemed to sum up the atmosphere of the neighborhood–warm and friendly, even in the bitter cold.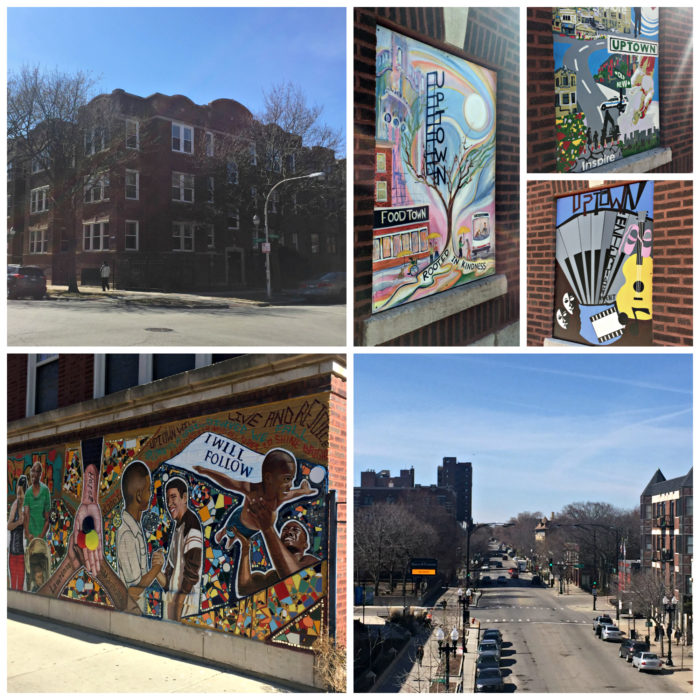 Sid stood in front of his apartment building, a brick block that looked like the one next door and the one across the street and the one two buildings down. When he'd first moved in, he accepted its blandness. The neighborhood's diversity brought it to life with beautiful people, beautiful food, and great nightlife—a life he had to admit he hadn't taken the time to enjoy in entirely too long.
In amazing news, my second novel, Black Dust, received a nomination in romance with Foreward Reviews for their Foreward Indies awards. In celebration of this and ELEVEN other nominations, all nominees' books are on sale for 25% off through 3.19 at Interlude Press.