The book tour for If the Fates Allow is underway! I can't believe it comes out tomorrow!
Today, I visit Two Chicks Obsessed to talk about holiday traditions, specifically baking traditions. The conversation can include all holidays—the December favorites aren't exclusive in their traditions of sweets to share. And, as mentioned at Two Chicks, the variety of baked goods traditions are as vast as the families that celebrate.
In "Shelved," my short story in the If the Fates Allow anthology, our narrator, Karina, talks to her new friend at the library about her Uncle Tony. She sees them both as lonely and in need of holiday companionship. In "selling" her Uncle Tony to Wes, she mentions his amazing pasticiotti—an Italian holiday specialty of miniature custard-filled pies. They're not a complicated recipe, but they are time consuming and a bit labor intensive—at least for this lady who narrows her holiday baking to batches and batches of cookies.
My first encounter with the treat happened about thirteen years ago when my friend, Lisa, announced she was going to make "pusties" for the holiday. I had no idea what she was talking about and she wasn't much on words to explain them. To her, they were a way for a daughter who couldn't cook to save her life to show her love and affection to her father. He had named pasticciotti as his favorite dessert, that no one made them as well as she did. That year, she rolled up her sleeves and asked me, a much more experienced and comfortable cook, to come help.
I had no idea what I'd gotten myself into. When I got there, her kitchen looked like a flour bomb had gone off in it. Scraps of dough littered her kitchen table. Streaks of flour covered her coal black hair. Vanilla custard cooked on the stove, chocolate cooled in the refrigerator and in the midst of this chaos, she grinned. Like a loony old witch who had cast the most sneaky of spells, she smiled, so completely pleased with her accomplishment.
She didn't say 'hello' or 'good god am I glad you're finally here' but, "put some chocolate in those shells over there." And I did. We filled the vanilla pies. When we topped the pies, the chocolate got a dough "button" on top to differentiate them from the vanilla. It took us longer to clean the kitchen than it did for the pies to bake. And then, it was time to taste…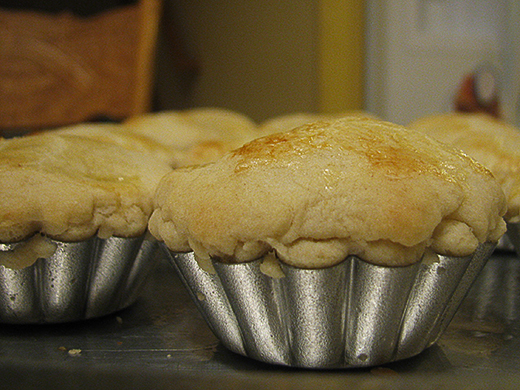 To me, they were okay. But Lisa moaned when she bit into that first bite. When her eyes twinkled ,I took another bite. Suddenly, it had more flavor. Her dad is a stoic man, one as kids we'd avoid because he never seemed to like any of us. But the only words she uttered after she ate her pie was, "Dad will love these."
It wasn't too many years later that I faced my first Christmas without her. She had passed that spring from diabetes complications, and I missed her in ways I'm still, nine years later, trying to put into words. That Christmas, in an attempt to reconnect with her, I found a recipe for pasticciotti. I ordered pustie tins from a store in New Jersey and set out to make the Italian treat.
My kitchen didn't fare much better than hers had. But, like hers, the pies were divine. I packed up half of them and made my way to her parents' home. I expected overly welcoming Mom and stoic Dad. Instead, Mom was quietly kind—thrilled I remembered the button—and Dad was… quiet.
And then he bit into one of those pies. He smiled. He bit again. He made a noise and he looked in my eyes—something in my 32 years of friendship with his daughter, I never experienced—and he said, "These are perfect," and then, "I miss her so much," which really was, above all, what we had in common.
We talked about Lisa. We talked about Christmas. We talked about their grandchildren—Lisa's nieces and nephews—and we talked about what food they'd make for the holiday without her. "I didn't think I'd ever have these again," her dad said. They were her treat. Her specialty.
I'm so grateful I could bring a bit of her to their first Christmas without her. I'd like to say I've made them every year since, but I only tackled them one more time. It's on my agenda for this year. As are peanut blossoms and shortbread cookies. And fajitas. I'll report back with my results and a recipe. (I want to make sure it works before I post it. I can't find the one I used before!)
Because food brings us together, it rounds out the traditions and throws its cast well beyond the confinement of a generation.
---
What are some of your holiday food traditions? Who makes them? Who loves them more than anyone else?
Share your stories with me here, on twitter, facebook, tumblr, or instagram. I'll compile them and post them here—anonymously if you wish. On Dec. 8, 2017, I'll randomly select a winner for a free copy of If the Fates Allow and a set of pustie tins.
Two more opportunities to win:
Enter the goodreads giveaway for a chance of one of three copies.
Or… $25 IP Gift Card + Multi-format eBook of If the Fates Allow goes to one Grand Prize Winner. Five winners receive the multi-format eBook: