Today, I get the honor of visiting Books on Silver Wings where they asked me to talk a little bit about my book cover and how it is an integral part of the completed package.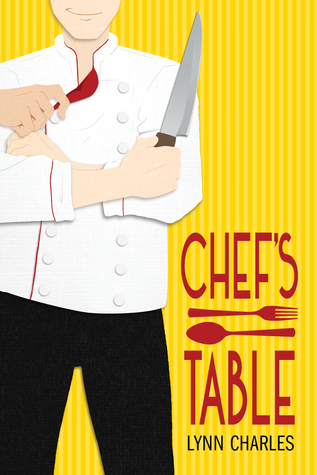 I work in circulation at a county library and I see and handle hundreds of books every day. It is fascinating to me to note which books cause me to slow down and take a second look. The ones that make me want to read the synopsis, and even to consider putting on hold for future reading. What is it that draws me to this book to begin with?
And I'd have to say, outside of author, it's always the cover. With a quick glance while I'm scanning, I can often determine category, genre, mood and even age of the last printing. Lately, I seem to be drawn to a more minimalist type of book cover. Typeset only, fewer details and colors in the images you do see, etc.
Catch me quick and hold me there.
So, when it was time to come up with a cover for Chef's Table, while my input was only a small fraction of the process, I was happy to suggest a minimalist approach with the image we'd already been sent of a chef with another man's sneaky hand reaching around to divest him of his whites.
The trick was getting it to read as light-hearted, which the story is, without looking cartoonish and comical, which it is not, and our art director took that task very seriously. I asked her about how she approaches each cover with so many different themes and styles between stories and she said she does tend to compare each new title to previous ones they've done, asking "What does this story bring to the table that others haven't yet?" In other words, she wants to set each book apart before the reader even opens up the first page.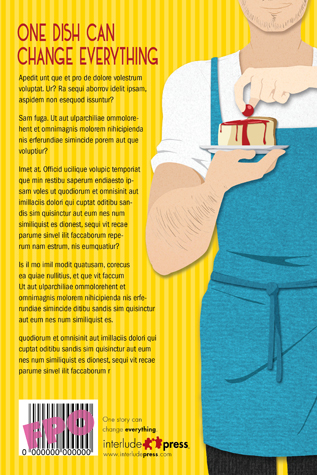 For Chef's Table, she called on an illustrator that she knew could not only execute the effect she was going for, but also remain faithful to the whimsical nature of the idea. They used a conventional "cut paper" technique where each simple shape of the image is a different kind of paper, only they achieved the effect digitally. The chef's jacket is finished with a crisp linen texture. Our cook on the back has a knit textured t-shirt and a woven texture for his apron. Skin is flecked as if pored, and to finish, shadows set off each layer to give the full dimensional effect.
I love my Evan and Patrick in this quirky minimalist fashion. I love the comedy of Evan snatching the cherry from Patrick's cheesecake on the back, and Patrick's sneaky hand creeping in to unbutton Evan's jacket. It's fun, it's a little sexy, and it pops with color.
Exactly what I hope the book will do as well.
For more on our artistic director, visit BuckeyeGrrl Designs. To see more work from our illustrator, visit Abby Hellstrom. Her site is still a bit under construction, but there is plenty to see.
For the change at a $25 gift certificate, please visit Books on Silver Wings and enter the giveaway!