Today, I am honored to visit The Reading Addict and talk about the concept of "last meal."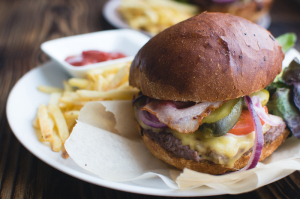 In Chef's Table, after our heroes have enjoyed the throes of good love making and a huge, fatty, made-with-love breakfast, they begin to talk about something chefs all over the globe talk about late into the night after long shifts, when the booze is flowing and conversation is loose.
It's the last meal of your life. Whether on death row, or the world is ending today, or somehow you know, for reasons unfathomable, that the meal before you will be your last. Ever. No more food. No more living. You're done.
What would you want to eat? Where would you want to eat it? Who would prepare it? Who would you eat it with? But always, always, what—what would that meal be?
And as I wrote that scene and debated the answers for my characters, I had to contemplate it for myself as well. How could I not?
What I learned for me anyway, is that it's not as easy of a question to answer as I would have expected. Food and I, we have a strange relationship anyway. Good food and I have even a more warped journey. I'm Type II diabetic and have had to ease up on the carbs. That means pasta (oh god, my longing for pasta is almost painful), fruit, bread, and of course… dessert. I mean, aren't those the main four food groups?
So, my first thought was to imagine diving into a vat of carboliciousness and call it a day. The Day. But the more I contemplated, and as much as I love pasta, there's not a pasta dish that would be The One for me. I guess I've learned to be satisfied without it. Go figure.
What I keep going back to is a roast beast of some kind. A roasted bird even. Something long cooked and crisped on the outside, its fat melting away into the meat so that the meat in turn melts in my mouth. With that, it's time to carb it up. And in that sense, I guess I projected a bit of myself into Evan's answer. Really, what's better than a perfect whip of rosemary mashed potatoes? Fresh rosemary, garlic, warmed cream and butter. If this is it, let us not be shy with the butter. Or the gravy. Pan juices shall never be put to waste.
Oddly enough, a vegetable would be nice here too. And I can hear my mother laughing that I'd actually include a veg in my final meal, but the crunch of a nicely roasted and seasoned vegetable makes that forkful pretty damned special.
To top it all off? Chocolate. Dark. Rich. Creamy. Decadent. Think the chocolate torte Evan served Patrick at chef's table at Il Boschetto. (Or remember it as you read that scene.)
Who would fix this meal for me? Well, if I couldn't do it myself—because I know how I like it—I'd want Evan and Patrick, of course. It would be a meal for just my husband and I and we'd eat it in our brownstone in The Village—which doesn't exist, but you know, rumor has it Evan and Patrick aren't real either.
What would you want as your last meal? I'd love to hear your answers!
And when you're done, hop on over to The Reading Addict to enter the giveaway for a $25 gift card.