It's hard to believe we're only two days away from the release of Beneath the Stars. I hope you've enjoyed the sneak peek into the characters and their stories through these mood boards. I'll have one or two more to share with you later, but today, I thought it'd be a good idea to focus on the two men that make this story a love story. (Come to think of it, all the characters make it a love story–familial love, love of friends, parental love, etc. But, you know what I mean.)
So, Happy Valentine's Day my lovely readers. I hope your life is filled with silly love, romantic love, passionate love… unending love.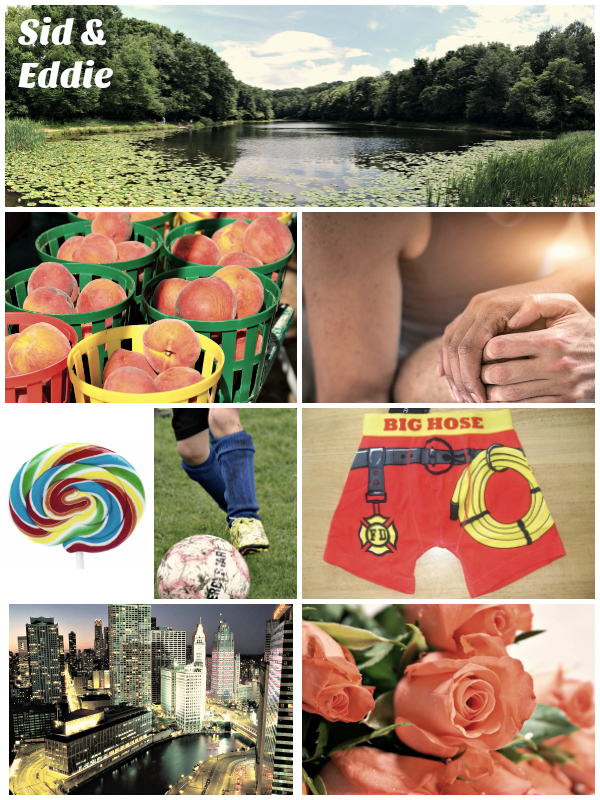 "Are you the director here?"

"No, I just help out. You want Dottie Mulligan." Sid pulled a business card from his desk. "Here's her contact info. She's a hard one to pin down."


"Thank you." Eddie pocketed the card and grabbed a chocolate. "And you?"


Sid cocked his head, and a curtain of bangs fell over his eyes. "And me what?" He flicked his head to flip the hair out of his face.


Eddie cleared his throat. "Are you hard to pin—" Jesus. "Hard to find?"


The pleasant look on Sid's face broke into a huge grin as laughter bubbled out of him. Eddie couldn't stop staring and squeezing the chocolate in his hand. "Are you asking me for my number, Chief?"


"Eddie, please," he said, shoving the chocolate into his pocket. "I—yes. I am. I want to thank you. You were discreet and made an embarrassing situation somewhat enjoyable."


"Only somewhat?"


Eddie chuckled. "No offense, but I don't plan on doing that again."


"You mentioned that, yes."


Eddie rubbed his sweaty palms together; his body was a traitor. "Seriously, let me pay you back. I can cook lunch at the station. Dinner. Something."


"You don't need to—"


"I want to." He popped the knuckles on his middle and ring fingers. "You… intrigued me. We're going to be working together more. It might be nice to get to know you when I'm fully alert."

Sid grinned more smugly than made Eddie comfortable. "You any
good?"

"Cooking?"

Sid scrunched his nose and smiled.


"Of course, cooking. Yeah, I won a bunch of community cook-off challenges in Wylie," he said. "Is that a prerequisite for accepting my invitation?"


"I don't want to embarrass you again."
[later when that meeting ended without a date… ]
Back in the C-DRT office, Eddie found Sid cleaning manikins. He stood with a plastic lung in his hand and an open-chested infant manikin on the table. His phone was pinned between his ear and his shoulder.

"Yes. Tomorrow. You said the fabric would be in Chicago by—" Sid nodded to Eddie. "Yes, this is why we pay for expedited—I understand. Tomorrow. Thank you." The phone fell from his shoulder onto the pile of manikins. "Chief?"


"I broke a promise," Eddie said. Sid smiled, the asshole."I said I wouldn't wimp out. I wimped out." Sid attached the lung to the manikin's "esophagus" and grinned again. Ravishing asshole. "Tonight," Eddie said. "It's my turn to cook tonight. I'd like for you to come."


"So soon? Afraid you'll wimp out again?"


"No." Unrelenting asshole. "Yes." Eddie popped a knuckle of his
ring finger. "I'm afraid if I blink you'll be gone." Eddie closed his eyes
as soon as the words left his lips. He balanced somewhere between
"seize the moment," and "stick your foot in it." No doubt, if he kept
talking he'd end up with his entire boot in his mouth.


"Mmm. That sounds loaded," Sid said. "We should discuss it over
dinner."


Observant asshole. It was loaded, of course it was. Loaded with the
fact that his life was currently spread between two cities and his heart
was splayed across the sky. Nothing that could be discussed over dinner.
---
Beneath the Stars, releases on Feb. 16, 2017, and is available for pre-order. Today only (2/14) save 30% not only on this pre-order, but on the entire Interlude Press catalog.
Enter now to win a free e-book bundle and a $25 Interlude press gift certificate.
You can also win a free print copy by entering the giveaway at goodreads.