Sing with me! My book will come out… tomorrow! Bet your bottom dollar that tomorrow–
Yeah, okay. That was a solo in Annie anyway, wasn't it? Ah, Annie. Probably the first musical I personally fell in love with, that made me want to hop up on stage and perform.
But this isn't about my musical theater dreams. This is about Toby Spence and his love for improv and the theater, composition and Emmett. About Emmett Henderson and his love of the stage and the classics and teaching his love to his students. And of course, of Toby.
Tomorrow is the day I can share their story with you. It's also the day I begin a two-week virtual book tour, visiting review sites and talking about Black Dust, my process, and, because everyone needs to know these things, my favorite foods. But mostly about Black Dust. I'll put the links on the sidebar and post each day's stops here.
I'm also headed to New York City on Friday. I'll be participating in Rainbow Book Fair, the largest LGBT book event held in the United States, on Saturday, April 10. If you're in the New York area, come on out to John Jay College (524 W 59th St.) between noon and six and say 'hi.' I'll be there with our amazing editor, Annie Harper, and author of Sweet, Alysia Constantine.
After those fun and games are over, I'll be enjoying the city. I'm going to try to make some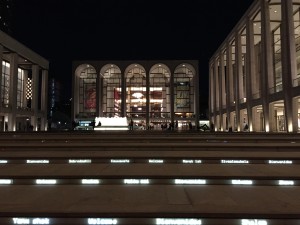 Black Dust stops (look! it's Lincoln Center!), as well as some from Chef's Table. The weather looks to be the variety that might challenge my mantra of, "I love New York," but I'll do my best to share some of the spots that feature in my books. (If not, I have old shots, as just proven. You'll never know the difference.)
Which brings me to specifically inviting you to follow me on various social media platforms. You'll get a chance to do so during the book tour as well–where you will also get a chance to win a free copy of Black Dust–but I wanted to put it all here. I share different things and have different sorts of conversations at each place, so I hope you'll come join me on your favorite platform.
Pinterest – I forget I have it, but plan on filling it with images upon my return (or even tomorrow, should time and mood strike) Also, where you might get a glimpse of upcoming projects.
Facebook – What could be better, a facebook page without the political discomfort!
Twitter – Where I am most chatty. Come and visit. I'll bring the tea.
Instagram – This is my personal account, but I will be using this more than anything for New York pictures. Besides, who doesn't love pictures of other people's food?
Tumblr – An offshoot of this site, plus related reblogs pertaining to my books. The place you're more likely to get a glimpse of upcoming projects as well.
So, there you have it. Links for purchasing Black Dust will miraculously show up on the side bar tomorrow. Until then, you can pre-order from my wonderful publisher, Interlude Press. Oh! If you like freebies, you have until April 10 to enter my goodreads giveaway.